Cosplay for a cause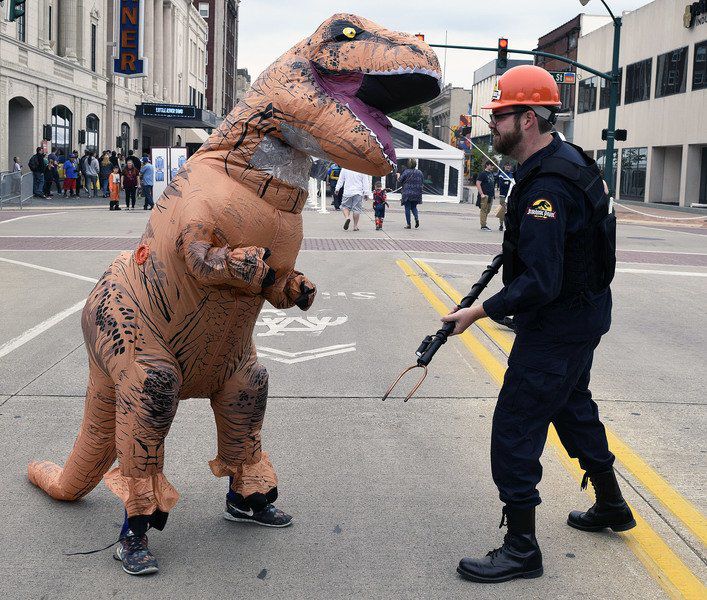 A Jurassic Park guard chases a tyrannosaurus rex into the intersection of South Main and Franklin streets. The guard keeps a stern face, focused on the task, but the dinosaur knows this is a game. They then pose for photographs with delighted spectators.
These two cosplayers are a part of the 501st Legion, and they're were making scenes throughout the Hall of Heroes Comic Con in Elkhart.
"I first got involved with the 501st Legion, the Star Wars group, and I just really like dinosaurs, and so does he," said Hunter Smoke, of Buchanan, Michigan, the voice inside the t. rex costume.
Matt Paige, of Michigan City, the Jurassic Park guard, broke character to explain a little further.
"We aren't necessarily wearing our Star Wars costumes, we're just here to have a good time," Paige said.
The group was a hub of energy at the comic con, posing with attendees, creating scenes on Main Street, and spreading their passion for fantasy characters and aiding their communities.
The legion also had a booth, where they provided information on their local chapter of the 501st Legion, the Northern Darkness Garrison. They also had trading cards with their biographies and photos from photo shoots they have put together, including one with Star Wars characters emerging out of the surf of Lake Michigan.
"We are a worldwide Star Wars costuming organization, promoting charity and community, and the love of Star Wars through costume building," Paige said.
---
---