How To Wear Over The Knee Boots In Winter
In the season of cold weather shoes, over the knee boots are probably the most loved style of the last 5 years. How can't you fall in love with boots that actually make wearing a skirt in the middle of winter possible? On the other hand thigh, high boots are tricky to wear. One mistake and you can look shorter and chubbier- we don't need that, don't we?
One thing is for certain. Thigh-high boots will never go out of style. They are practical, warm, and able to transform even the simplest of outfits into a killer winter combination, leaving everyone feeling jealous. You can wear them with everything from cozy sweater dresses to leather trousers, jeans, and tweed skirts. Whether you already own a few pairs of these miracle boots or looking to buy some affordable new styles, we gathered the top .. ways to rock your over the knee boots like a pro this winter – and still look chic doing it.
The all-time classic and chic combo we all love to wear when it's cold outside. Fitted jeans go perfectly with many different types of blazer and of course, over the knee boots in all highs and colors. If you are going for a more ladylike look, pick a plain black style that fits your legs like a glove.
ohh maxi dresses. How said you could only wear them during the summer? Floral can be worn all year long, especially if you own a pair of neutral-colored thigh-high boots to keep yourself warm and stylish. Put on leather or a suede jacket to complete the look.
Leather skirts have always been at the top of every woman's wardrobe. They can be worn throughout the day depending on the way you style it. This season is all about leather details and funky knits. Maybe pair up your favorite all-black OTK boots with a tight leather skirt and a multicolor sweater to make a statement.
We all love out flowy, ruffle dresses. Now is the perfect time to rock them in a completely different way. Pick the right autumn, winter hue (maybe dark green, beige or black) and style them with a gorgeous pair of suede over the knee boots .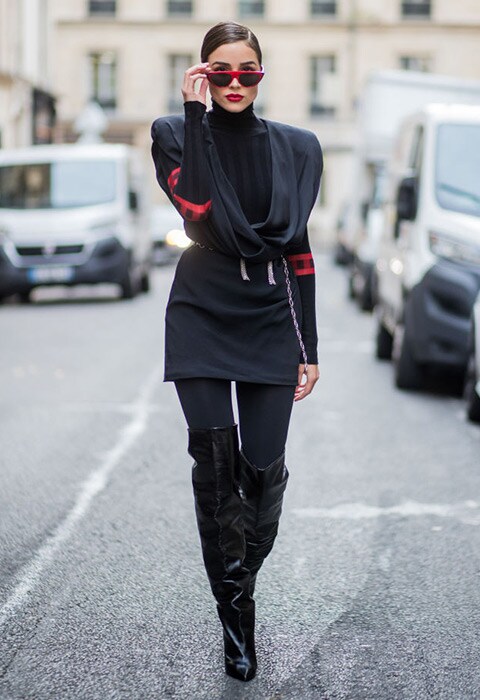 Over the knee slouch boots are so in style right now. You can pair them up with a simple yet fitted outfit to come in contrast with the "messy" look of the boots. Don't forget to put emphases on your waist, maybe with a thick leather belt on top of your cardigan or sweater.
---
---