These Casual Dresses Are Easy and Chic
Out of options for Casual dresses? Casual wearing is one of the most important things in your day-to-day life. How you style yourself is how you represent yourself in front of others. In this article, we will see the best options of Casual dresses which are easily available and will make you look stylish and chic.
1. Boyfriend tee:
    It is nothing but any t-shirt that has a relaxed fit. For your Summerfield version, anything loose, comfy, or even oversized will do the work. The extra fabric in these t-shirts allows you to do a cute little front or side knot creating two different looks from a singular t-shirt.
A V-neck looks more beautiful but a crew neck is also very classy and looks modest. And, for colors, you can never go wrong with a classic white t-shirt, plain black or if you want some pattern in the t-shirt you can always choose a mutual striped t-shirt.
2. Tank Tops:
    Tank tops are one of the most versatile outfits available there because you can layer them underneath different outfits in the winter whereas in the summer they are the center of attraction.
For choosing the best tank top you have different options available out there from which some of them are mentioned below:-
a. Cami:- This type of tank top is loose in the torso and is really lightweight.
b. Ripped / Stretchy Tank top:- This gives you a seamless fitted look. It looks great tucked in any type of bottoms and provides a very nice visual balance for anything that is flowy or high volume.
Or for modesty, you could stick with a looser tank top that has thicker straps for better coverage.
3. Button-Down Shirt:
    The buttons and the collars just frame down your neckline make any outfit look elevated. For more casual looks you can do short sleeves or cough your long sleeves and then combine it with lighter fabric jeans to look more stylish and then you could tuck it in for a polished look or untuck the tails and tie it up into a small little knot.
A classic white button-down would bridge your professional and personal life.
4. Accent Blouse:
    This is your option outside the basic tank top and a button-down shirt. This top would be fun, cute, something you would throw on for a date night or when you want to look extra fancy.
5. Light Wash Denim:
    Whether it's a pair of denim shorts or denim jeans or both there is nothing that queues in summer than just that light bright denim blue or stark white denim jeans. Denim looks amazing with all types of tops and it just looks so fresh. Denim goes on all of the above-mentioned tops.
6. Linen Bottoms:
    High waist paper bag style linen bottoms give you definition in the waist but, anything loose and relaxed would be comfortable because nothing is then going to stick to your body and then the fabric itself is breathable.  
7. Skirt:
    This skirt is going to be light and fluffy and airy and obviously one of the more comfortable bottoms because you have nothing hindering your legs.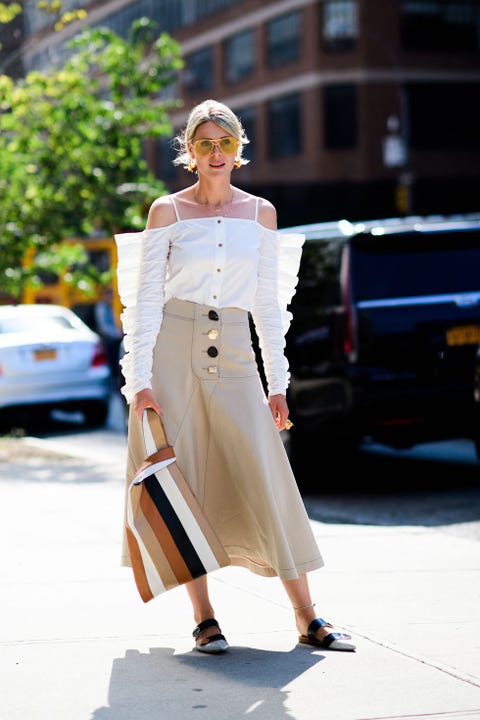 Conclusion:
    So here we come to an end and we hope that this article helps you dress casually but still makes you look stylish and beautiful.
---
---