Tips for Rocking Asymmetric Dresses Wisely
Summer is the season to express our individual style with chic, creative looks. With its striking designs, versatile fits, and ability to keep us totally cool, one trend that has become synonymous with the summer is asymmetric dresses. These natural pieces are one of this season's top picks for a reason – they dominate the fashion scene! In fact, anyone who considers themselves a fashionista must include an asymmetric dress in their summer wardrobe. With that said, let's get exploring how to rock these incredibly stylish pieces. In this blog post, we will be providing tips to enhance your confident look with these eye-catching designs so you can fully embrace stunning fashion during your sunny days.
Tip #1: Go Bright and Bold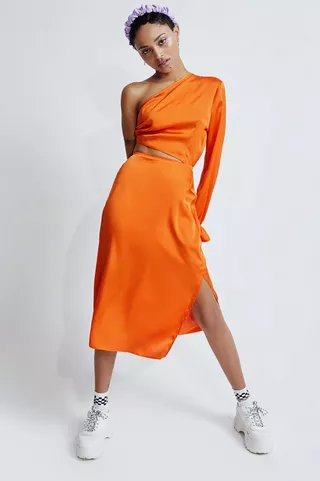 If you're committed to making a statement, try an asymmetric dress with bright and vibrant colors like turquoise, orange, and pink. This pairing of dynamic colors can add an effortlessly chic boldness that is sure to stand out from the crowd. Or, if you prefer a more subtle approach, try soft pastel shades such as delicate pinks and baby blues – both perennially stylish options. Boasting an air of playful sophistication, adding minimal sandals will bring any look together for a natural finish. So why not go bold with bright colors? You can never go wrong when tapping into on-trend hues for something that cannot fail to make your outfit "pop"!
Tip #2: Go for Texture
Adding texture to your look is always a bold, fashionable move. Doing so takes basics like an asymmetric dress to the next level, and there's no shortage of choices when it comes to textures that will make an unforgettable outfit! Lace, velvet, or satin – they're luxurious options that will ensure your look stands out in all the best ways. By pairing one of these classic statement pieces with a textured dress, you can completely transform your wardrobe. Be sure to complete the look with attention-grabbing accessories for a dynamic head-turning ensemble.
Tip #3: Accessorize Thoughtfully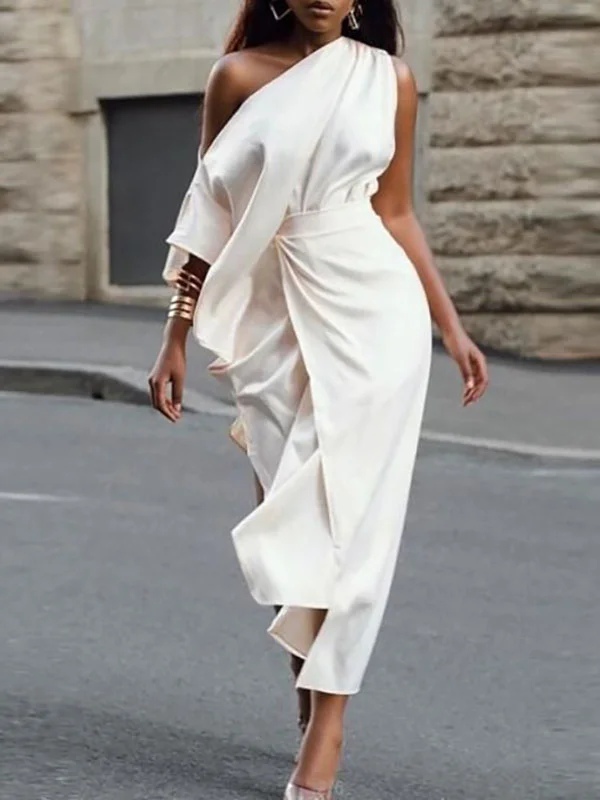 Accessories can be the secret ingredient to a stylish outfit. When it comes to asymmetric dresses, opting for minimalist accessories helps bring balance to the look by seamlessly complementing rather than competing with it. Dainty beads in the form of a necklace, simple yet chic layered bracelets, or even statement earrings can all emphasize your overall look without distracting from what you are wearing. Add an extra element of style and sophistication to your ensemble. A wide-brimmed hat and sunglasses with oversized frames also definitely make for a fantastic addition to asymmetric dress wear.
Tip #4: Mind the Shoes
The right pair of shoes can truly make or break any outfit. An asymmetric dress, a fashionable classic, is no different. Its subtle curves and statement cut need the perfect supportive duo to complete the look. If you want a casual daytime ensemble, opt for something strappy like sandals or espadrilles–the shoe staples of the summertime. Feeling fancy? Heeled sandals with an ankle strap that expressing mimic the lines of your dress are bound to please. Be sure to choose a shoe style that supports the vibe and nature of your look's design, one that will fit within it in all aspects and maintain structural harmony throughout!
Tip #5: Cinch with a Belt
Whether your dress is loose or you want to show off your curves, a belt can make all the difference. Accentuate your waist and add structure to any outfit with a sleek and slim belt! Pick one that blends well with the dress you are wearing. It will create a tailored look that's sure to turn heads. Alternatively, add an extra touch of style by choosing a bolder-colored belt for a striking contrast to your dress. No matter what you choose, wearing a belt will help boost your confidence and make your focus on the waist. 
By keeping these fashion tips in mind, you can easily pull off the trend of asymmetric dresses and look fabulous at any time. Don't be afraid to step out of your comfort zone and try something new this summer–you will be sure to make a statement! Go ahead and get creative with prints, colors, and textures; there are endless combinations to explore as you search for the perfect asymmetric dress. So put your best foot forward and rock your stylish look this season!
---