Fashion Heroes: Cosmolle Pieces From Yoga To Dailywear
Activewear has become not only the best option for athletes but for fashionistas too, that have been including this type of clothing as their daily wear, because they are not only stylish but also very comfortable. And a great way to transition from the gym to the rest of the day, if you don't have to wear a uniform or follow strict outfit rules at the office.  
One of the brands that understood the assignment and the current trends was Cosmolle. They are making sure their yoga suits and other products, transition perfectly from the yoga studio or the gym to daily wear. They really have something for everyone and every personal style.
If you are one of those who love wearing yoga clothes as daily wear outside the studio, then the following options from Cosmolle are going to be the best choices for you, as they are not only stylish but also extremely comfortable and the best thing, sustainable… so buying them means also you are helping the planet and the environment.
You can choose between so many of their styles, there are sets, leggings, tops, and even an activewear bodysuit. Really, there's an option for everyone, not only when it comes to styles and colors, but also when it comes to sizes, as there is an inclusive brand that encourages body positivity.  
Their seamless leggings
They have plenty of seamless legging options, that are the perfect choice for anyone and everyone that values comfort with their everyday outfits, they are also perfect for people who love going to the gym and yoga enthusiasts.
Made with a blend of spandex and nylon, they are extremely comfortable and stretchy. Because they are seamless, they won't cause irritation and won't be digging into your skin, which is a common problem when these pieces have seams.
Their high-waisted leggings
For those looking to get a flattering silhouette when wearing leggings, Cosmolle's high-waisted leggings will be the right choice. They were designed to sit naturally on your waistline, which smooths out bumps and lumps. Made with fabrics that are moisture-wicking, they will keep you dry, and sweat stain free, not only after your workouts but also after a long day running errands.
Their sports bras
Cosmolle does have a big variety of sports bras, that were designed to provide comfort and support during exercises and workouts. Also made with a blend of spandex and recycled nylon, they are breathable and stretchy. You can find different styles, like cross and race back, and many others that will suit your needs.
Seamless underwear
Cosmolle doesn't only offer activewear, but they also have a range of underwear, with most of their pieces being seamless. Actually, their intimate range was the first product line they launched. They are made of collagen polyamide yarn, which is a luxurious and buttery soft fabric. They provide all the support you need, are stretchy, and obviously very comfortable. As they are seamless you won't have any problems with them showing under your clothing, causing any irritation or digging into your skin.
Cosmolle can be your fashion hero, as you can wear their clothes not only during your workouts but also as daily wear. Their activewear pieces are extremely comfortable and stylish. They have an option for everyone, whether they are leggings, tops, sports bras, shorts, or even underwear. Wear them to the gym, yoga studio, or streets, you will always look your best. One of the most amazing benefits is they'll make you feel confident with your outfit, no matter what you are doing.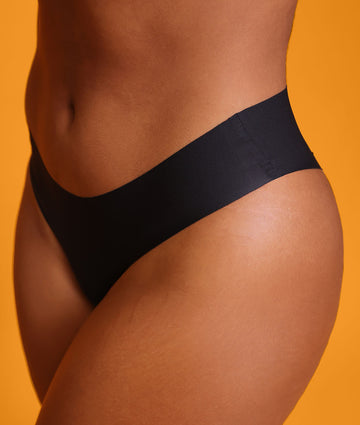 Image from:
---