How to Wear a White Shirt Stylish Classics?
In the ever-evolving world of fashion, some items stand the test of time, proving that simplicity and elegance never go out of style. The white shirt is undeniably one of these enduring classics. Whether you're dressing for a formal event, a casual outing, or a professional meeting, a well-fitted white shirt can be your ultimate style ally. In this comprehensive guide, we'll delve into the art of wearing a white shirt with timeless sophistication. From choosing the perfect fit to accessorizing, we'll help you create a memorable impression wherever you go.
#1: The Classic White Shirt and Jeans Combo
A white shirt is one of the most timeless pieces in fashion, and one of the easiest ways to wear it is with a pair of jeans. To achieve that perfect blend of casually elegant, opt for slim or straight-cut jeans– you'll be oozing modern chic! To make your look a little more relaxed, roll up the sleeves of your shirt– tucking it in will give off an air of vogue sophistication. Adding a stylish belt plus a classic wristwatch to complete the ensemble is your golden ticket for transitioning from daywear to a light dinner in one seamless motion. With this effortless, cool ensemble, you've just conquered versatility.
#2: Office Chic: White Shirt and Tailored Trousers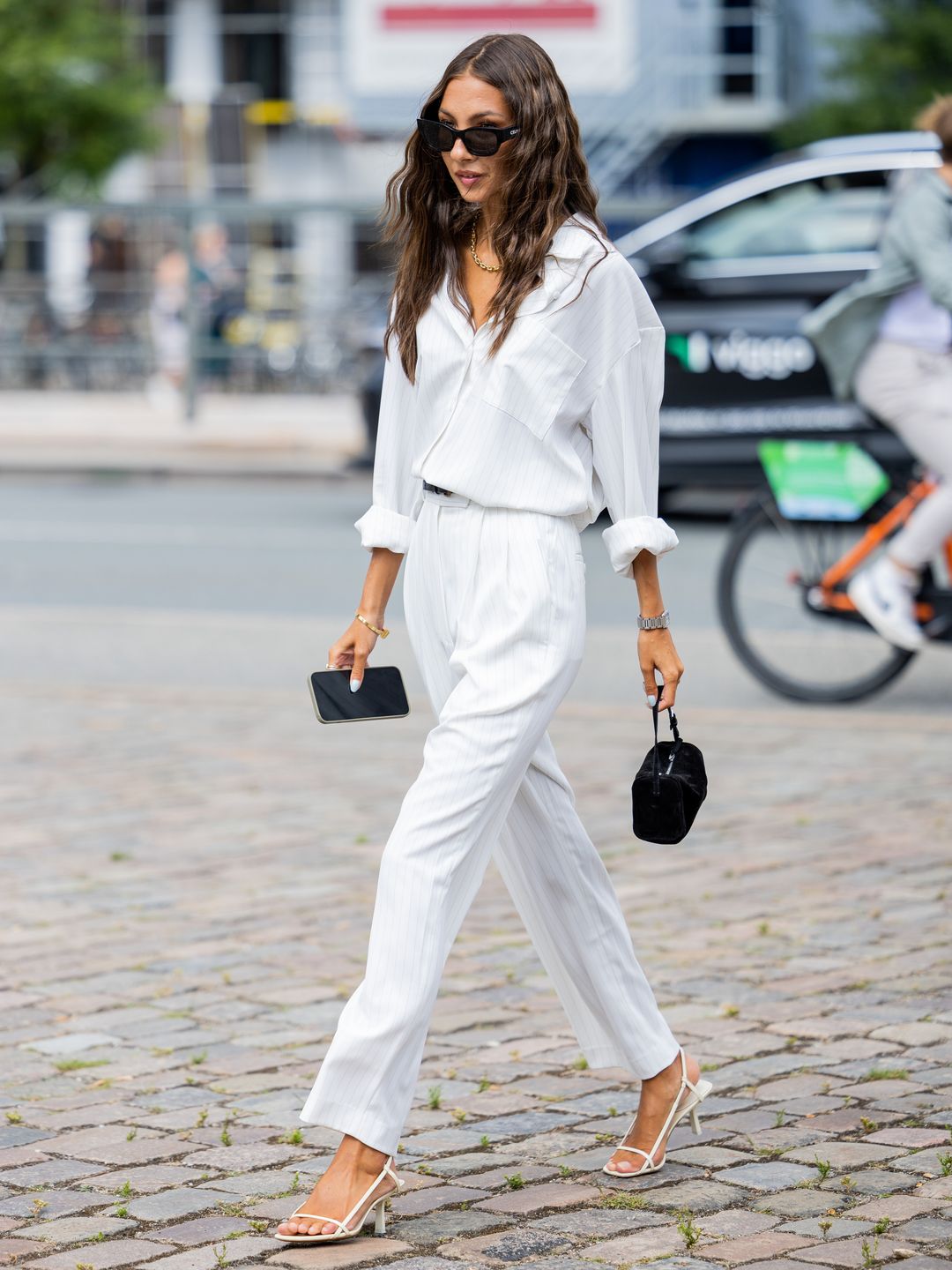 Take serious style to the next level with tailored trousers and a crisp white shirt. Make sure that your trousers are well tailored, fit perfectly, and look flattering on your body shape. Show extra care for all the details of the outfit by tucking in the shirt neatly or adding a stylish belt to define your shape. Step up your professional game with classic, timeless pumps or loafers. This put-together ensemble is never out of style and is the perfect option working not only in work wear settings and meetings but just when you want to exude sophistication on any occasion. Go above and beyond when you're setting to make a memorable impression on others!
#3: White Shirt and Skirt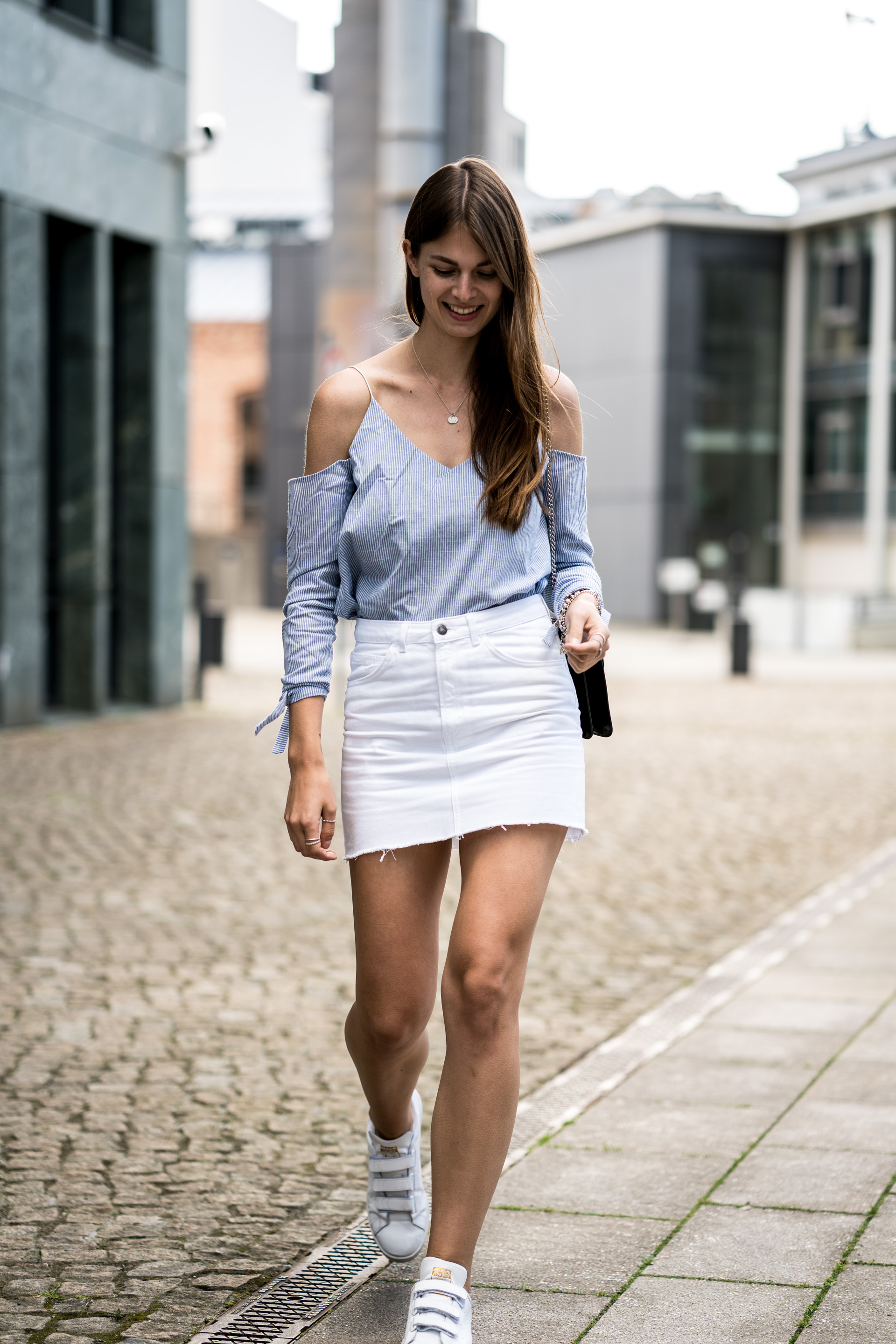 If you're looking for a sleek and chic vibe, pairing a traditional white top with a skirt is the perfect choice. Depending on your fashion preference and the event you're attending, selecting a skirt style is easy. For example, try cinching your white shirt in with a pleated midi; it emphasizes the structure and adds sophistication to any look. Alternatively, add a shot of whimsy with a denim skirt; it will give off those subtle girly airs while still staying casual. To draw attention to that paper bag silhouette, incorporate an extra belt into the mix – it'll make sure putting together your outfit just got even easier!
#4: Layer with a White Shirt
Bring your outfit to the next level by layering! Start with a crisp white shirt as your base layer for a look that's sure to emanate confidence and style. Top it off with a timeless blazer or sleek jacket. This creates an effortlessly put-together, smart-casual ensemble that transitions seamlessly from day to night. Push the boundaries of fashion by trying different colors, cuts, and textures for variety in your wardrobe. Be bold – make head turns with jaw-dropping threads!
#5: Accessorize and Experiment
Accessories can make a huge difference when finishing off an outfit. Think statement necklaces, chic silk scarves, or bold earrings to bring that plain white shirt to the next level. It's all about expression, so have some fun and experiment with different pieces. Flip through magazines for ideas on how you can pair different accessories together to create unique looks that stand out. These petite details can work wonders in enriching your ensemble and showcasing your personal style! Don't be afraid to mix and match until you find something special. Something that captures who you are as a person at this moment.
Conclusion
Incorporating these tips into your wardrobe will ensure that you can wear a white shirt in various stylish ways. Remember, the key to a successful white shirt outfit is finding the right fit. And paying attention to details like tucking, rolling sleeves, and accessorizing. To make your white shirt outfits even more appealing, choose high-quality fabrics that are comfortable to wear. A well-cared-for white shirt can last for years and remain a classic piece in your closet!
---