These Slip Dresses for Treating Yourself on Special Days
Slip dresses are one of the most trending comeback outfits today that gives you a fashionable look. Slip dresses can be worn at home or even at some parties with ease. It is because slip dresses are a combination of both styles as well as comfort.
So, take a look at the amazing slip dresses that you can wear on different occasions.
1. Ludovica Dress For Cocktail Party
This amazing and stylish slip dress is the perfect choice for attending a cocktail party. The hot pink colour also makes it perfect party wear. This slip dress has a deep v cut neck design and has a knotting system in the front. The waist comes with a tying system and has a two-layered frill on the top. Moreover, the side slit design reaches the mid-thighs. The slip dress is very comfortable to wear and has a sleeveless design.
2. UO Mallory Cowl Neck Slip Dress For Your First Date
This mini slip dress has been made up of a satin finish fabric and thus fits perfectly by hugging your body. The mini slip dress is very light but equally fashionable too. Moreover, this mini slip dress also has spaghetti straps which are adjustable and thus have a sleeveless design. The neck design of this mini slip dress is a cowl neck. Further, the zipper system present at the backside of the dress makes it easy to wear.
3. slip dress for wedding
This slip dress is a perfect dress for a ball. The dress is of full length and has a multi-layered ruffled design which makes it look heavenly. This slip dress gown is suitable for occasions like weddings. The waistline of the dress is adjustable with an elastic band system and the petticoat has 5 ruffled layers of fabric. The fabric used is nylon, which gives a perfect fall and the best look to the slip dress gown.
4.  Navy Blue Maxi Dress
This petite dress by TFNC is a perfect outfit for wearing at a party or occasions like weddings. This slip dress has a lacy top with floral patterns and has a sleeveless style too. The back of the dress has an open look. This slip dress is very comfortable to wear and has a perfect fit. This slip dress is a full-length one that reaches your ankle and also has a side slit design, adding to the stylish look of the dress.
5. Monogram-print Silk-Satin Slip Dress for Friendly Outings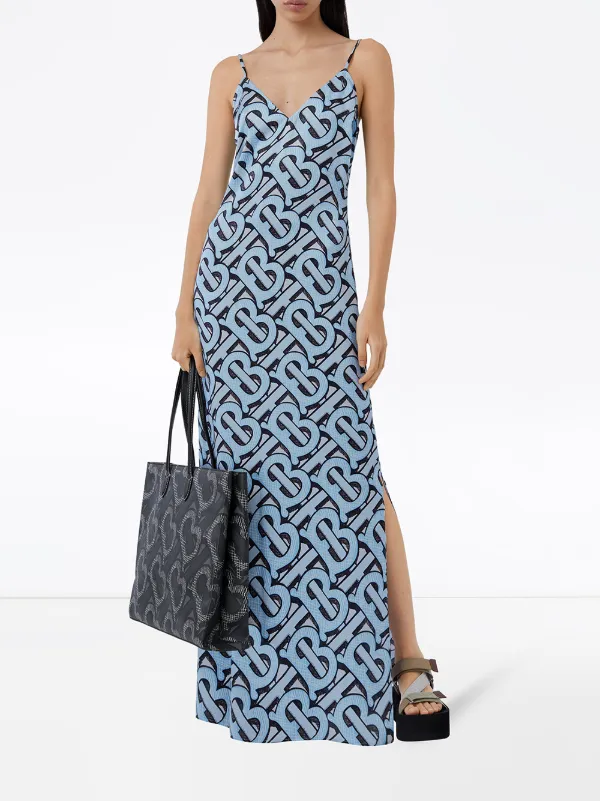 this casual yet classy slip dress has a monogram print giving it a funky look. This slip dress extends up to the ankle and has a sleeveless design. Made up of satin and silk, this slip dress drapes perfectly onto your body and feels very light and comfortable on wearing. The slip dress comes with adjustable spaghetti straps and has a V neck design on the front. Moreover, this slip dress also has a side slit starting from below the knees. The Burberry monogram print makes it suitable as a party wear too.
Slip dresses are definitely a treat to wear. Some amazing slip dresses are mentioned in the articles which vary in designs and purpose. Slip dresses can be easily worn occasionally, to a party or wedding, or even casually back home.
---
---